AK Family
ATURAN MAIN SEBELUM ANDA MEMBELI :
Anda sedang tidak ditipu. Jadi tak perlu khawatir jadi KORBAN TIPU. Saya menjual airsoft sejak 2008. Anda boleh cek pengunjung yang pernah transaksi dengan saya, klik disini.
Airsoft yang dipajang di bawah ini adalah BARANG BARU bukan AIRSOFT SECOND/BEKAS.
Semua airsoft baru yang dijual tidak ada garansi.
Tidak melayani COD/ ketemuan (lihat & bayar di tempat).  Sori…bukan sombong & mau nipu, tapi dgn byk pertimbangan smp situasi kondusif deh (kemaren2 sih masih bisa COD)
Cara transaksi : uang ditransfer dulu, baru barang dikirim.
Rekening bank yang biasa digunakan : BCA & Mandiri.
Bagi anda yang posisinya di daerah/pelosok, bisa lewat wesel pos online. Lebih gampang malah, kantor pos udah dimana2.
=========================================
MAU ORDER? KLIK DULU ATURAN ORDER!
Kalau barang yang anda ORDER stoknya HABIS, anda bisa PRE ORDER. Bagaimana caranya? Baca selengkapnya di halaman PRE ORDER
=========================================
UP DATE 27 Januari 2015
Untuk meningkatkan kualitas pelayanan kepada customer, mohon maaf, kami tidak menerima pertanyaan/order via TELEPON. Silakan tanyakan via SMS/YM/BBM/Email/Whatsapp.
Salam Sukses, Terima Kasih:)
=========================================
SMS/Telp : 0852-2121-1813/0857-9435-0945
Whatsapp : 0857-9435-0945
email : lapakairsoftgun@gmail.com
YM : lapakairsoftgun@ymail.com
BB : 22CE7505
=========================================
Untuk mengobati kerinduan rekan2 airsofters penggila AK/easter block lovers….


Kini kami persembahkan….
AK FAMILY
###
CYMA AK 47 CAW (Contactor's Assault Weapon)/ (CM028C)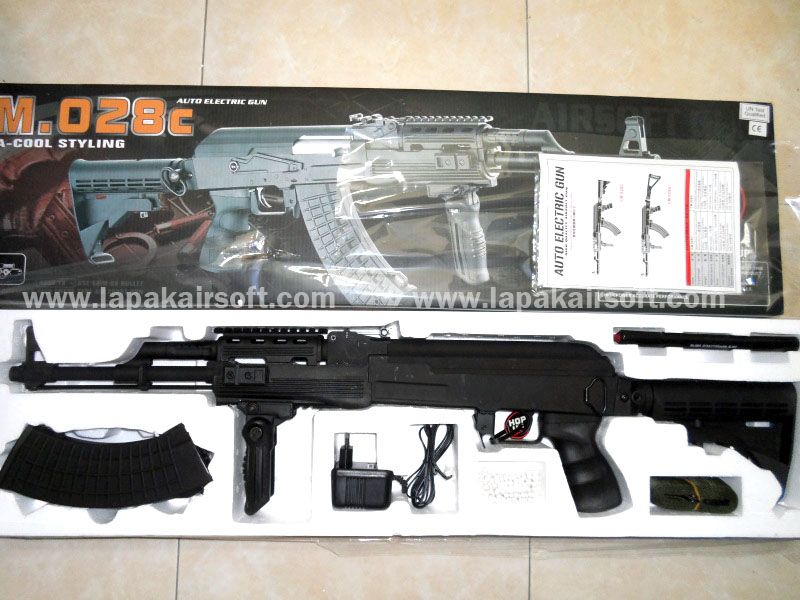 Buat kamu yang sudah bosen dengan AK klasik, pilihan CYMA AK47 CAW (Contractor's Assault Weapon) bisa sangat menarik. Dilengkapi dengan Rail Integrated System, kamu bisa melekatkan segala macam aksesoris di 4 sisi. Bisa senter, laser atau optik. Apa saja. Dilengkapi dengan popor Sopmod/ popor tarik. Bisa dipindah-pindah ke 4 posisi.
It remains to be one of the most durable and modular AEGs that CYMA manufactures for under $200. It holds an excellent balance between power, accuracy and reliability like many of the more expensive AEGs out on the market, just without the big price tag. It shoots well around 380 FPS (w/ 0.20g BBs) territory and includes an adjustable hop-up unit, AK47-style front and rear sights and 600-round high capacity magazine. Furthermore, the rail system lets you add a variety of tactical accessories to it, including flashlights, scopes, lasers and grenade launchers. Don't break the bank with an AK47 that can cost three times as much and pick up this one by CYMA today!
Spesifikasi :
Automatic Electric Gun
Firing Modes: Semi-automatic and Full-automatic
Muzzle Velocity: 380-386 FPS
Magazine: 600-round high capacity (gear wind-up)
Gearbox: Full metal
Hop-up: Adjustable
Weight: 3.5kg
Stok : HABIS
Harga : HABIS
CYBERGUN AKM
CYBERGUN AKM AEG (Full Metal)
Material: Bodi Full Metal, Handguard, popor & Grip dari serat Nylon
Gear Box: Version 3 Metal Gear Box
Magazine: 600 Rounds (dapet 2 biji), material ABS
Battery: 8.4V AK stick Mini Type Battery (sudah include batre & charger)
Speed: 400-420 FPS with 0.2g BBs
Panjang : 900mm
Kelengkapan: AEG, 2 Magazine hicape, 2 grip, scope mounting, batre, charger, cleaning rod & Box,
Harga : Rp.3.750.000,-
Stok : READY

CYBERGUN AKS74U
Ini airsoft FAVORIT SAYA!
Paling enak dibawa ke field/tempat skirmish karena nggak perlu bawa gunbag besar.
Cukup 1 ransel 40lt, bisa masuk dengan mudah!
Dibawa main pun mudah. Nggak ribet karena berat & ukurannya yang terlalu panjang. Unit airsoft yang sangat Low Profile! Cocok buat kamu yang nggak kepingin ribet di field!

Foto hasil krono Cybergun AKS74U
Merek : Cybergun
Material : flashider/kompensator metal, body full metal, popor metal, handguard real wood, mag ABS
Kapasitas Magazine: 600 butir
Panjang: 500mm (popor dilipat) / 730mm (popor direntang)
Panjang inner barrel : 295mm
Berat : 2,7 kg
Hop Up : bisa distel
Battery: Batre model stick (8.4V 1400mAh Included)
Speed : 380FPS with 0.2g BBs
Kelengkapan : Gun, Magazine, Batre, Charger  & Box
Stok : HABIS
Harga : HABIS

G&P AK47 Classic (AEG)
Keunggulan : bodi terbuat dari metal alloy, popor, pistol grip & handguard terbuat dari kayu asli.
Built Material: Metal Alloy, Wood
Gear Box: 8mm Bearing Versi 3
Motor: G&P M120 High Speed Motor
Magazine: kapasitas 150 butir ( 6mm )
Panjang: 918mm
Berat: 3260g
Muzzle Velocity: 410-430FPS with 0.2g BB
Battery: AK Stick Type ( batre & charger dijual terpisah )
Package includes: AEG, Magazine
Stok : HABIS
Harga : HABIS
###
G&P AK Tactical Combat AEG
G&P AK Tactical Combat AEG
Built Material: Metal Alloy, Reinforced Polymer
Gear Box: 8mm Bearing Version 3
Motor: G&P M120 High Speed Motor
Magazine: 150 Rounds ( 6mm )
Length: 820-902mm
Weight: 3210g
Muzzle Velocity: 390-410FPS with 0.2g BB
Battery: 2-cell Stock Tube Type Li-Po Battery ( Not Included, T-Style Plug on Gun )
Package includes: AEG, Magazine
Stok : HABIS
Harga : HABIS
###
G&P AK Tactical With Folding Stock And Top Rail
G&P AK Tactical With Folding Stock And Top Rail
Built Material: Metal & ABS
Gear Box: 8mm Bearing Version 3
Motor: G&P M120 High Speed Motor
Magazine: 150 Rounds ( 6mm )
Length: 711 / 945mm
Weight: 3585g
Muzzle Velocity: 390-410 FPS with 0.2g BB
Battery: AK Stick Type ( Not Included, T-Style Plug on Gun )
Package includes: AEG, Magazine, Folding Foregrip
Stok : HABIS
Harga : HABIS
###
G&P AK Tactical with Extended Stock
Built Material: Metal & ABS
Gear Box: 8mm Bearing Version 3
Motor: G&P M120 High Speed Motor
Magazine: 150 Rounds ( 6mm )
Length: 865-947mm
Weight: 3465g
Muzzle Velocity: 390-410 FPS with 0.2g BB
Battery: AK Stick Type ( Not Included, T-Style Plug on Gun )
Package includes: AEG, Magazine, Folding Foregrip
Stok : HABIS
Harga : HABIS
###