Machine Gun
UPDATE 26 Juni 2014
ATURAN MAIN SEBELUM ANDA MEMBELI :
Anda sedang tidak ditipu. Jadi tak perlu khawatir jadi KORBAN TIPU. Saya menjual airsoft sejak 2008. Anda boleh cek pengunjung yang pernah transaksi dengan saya, klik disini.
Airsoft yang dipajang di bawah ini adalah BARANG BARU bukan AIRSOFT SECOND/BEKAS.
Semua airsoft baru yang dijual tidak ada garansi.
Tidak melayani COD/ ketemuan (lihat & bayar di tempat).  Sori…bukan sombong & mau nipu, tapi dgn byk pertimbangan smp situasi kondusif deh (kemaren2 sih masih bisa COD)
Cara transaksi : uang ditransfer dulu, baru barang dikirim.
Rekening bank yang biasa digunakan : BCA & Mandiri.
Bagi anda yang posisinya di daerah/pelosok, bisa lewat wesel pos online. Lebih gampang malah, kantor pos udah dimana2.
=========================================
SMS/Telp/WA : 082126927221
email : lapakairsoftgun@gmail.com
BBM2 : 59CC1EAA
ID LINE : lapakairsoftdotcom
Twitter : @lapakairsoftgun
=========================================
Selamat berbelanja
A&K Mk43 Mod0
Realistic Measurement Electric Powered Airsoft AEG
FULL METAL Constructed Airsoft Electric Gun (AEG) from A&K
Replica from VFC MK43 Mod 0 Model
Super heavy Built with Weight over 6.5kg !!(Do not carry it by carry handle only, it might break and cause damage)
Innovative adjustable firing rate design, simply turn the gas muzzle and it will accelerate/decelerate by Voltage Chip
Ready to go for 350FPS without modification
Electric Auto-Winding 3500 Rounds Box Magazine (Synchronize Sound Activated)
Sound Sensor built-in drum magazine help winding bullet into barrel while shooting
Store up to 11.1V Batteries inside of the Magazine Pouch (Mini-Plug)
Fitur:
Bipod mudah dilipat & diatur ketinggian sesuai kebutuhan
Pisir belakang model lipat bisa diatur
Metal Feed Tray
Polymer Made Foregrip handguard
Adjustable Hop Up chamber
Barrel mudah dilepas, tinggal sekali buka kuncinya
EG1300 High Performance Motor
Inner Barrel kompatibel dengan yang ada di pasaran
Gearbox Spec:
– AK Type Short Motor
– Steel Gear (Version 2/3 compatible)
– Aluminum Cylinder (Version 2/3 compatible)
– Cylinder Head (Version 3)
– Steel Teeth Piston & Piston Head (Version 2/3 compatible)
– Bearing Spring Guide (Version 2)
– 8mm Bearings (cut-edge, also compatible with standard airsoft bearings)
Harga : Rp.7.850.000,- Rp.6.000.000,- HARGA OBRAL!!!
Stok : READY 1 lagi
A&K M249 MkII
(klik foto untuk memperbesar gambar)
Spesifikasi :
Heavy Weight Light Machine Gun
FULL METAL Gearbox
Semi / Fully Auto Shooting Mode Airsoft Electric AEG
Magazine berkapasitas besar 2400 butir dengan sistem Electric Auto-Winding Box sehingga BB akan didorong ke atas masuk chamber secara otomatis
1/1 Scale High Performance Assembled Electric Powered Airsoft AEG
Konstruksi FULL METAL, jangan diragukan!
Beratnya gila! Super heavy! Lebih dari 5kg
Material non metal : Box Magazine, Stock Pad/pantat popor, Pistol Grip & Foregrip, sisanya metal
Speed ready to go for 400FPS without modification
Electric Auto Winding 2400 Rounds Drum Magazine (Sound Activated / Full Auto Winding)
Kalo nggak mau pake Drum Mag, pake Magazine M4 / M16 Series kompatibel kok
Foldable Bipod mudah digunakan dengan 3-Level ketinggian yang bisa diatur
Panjang 1050mm
Panjang Barrel ~480mm
Hop-up Adjustable
Shooting Mode : Semi/Fully Automatic
AEG Power Source :9.6V
Fit Battery Pack : Mini / Handguard (Nickel / Li-Po)
Harga : HABIS
Stok : HABIS
###

A&K M60VN (Vietnam version)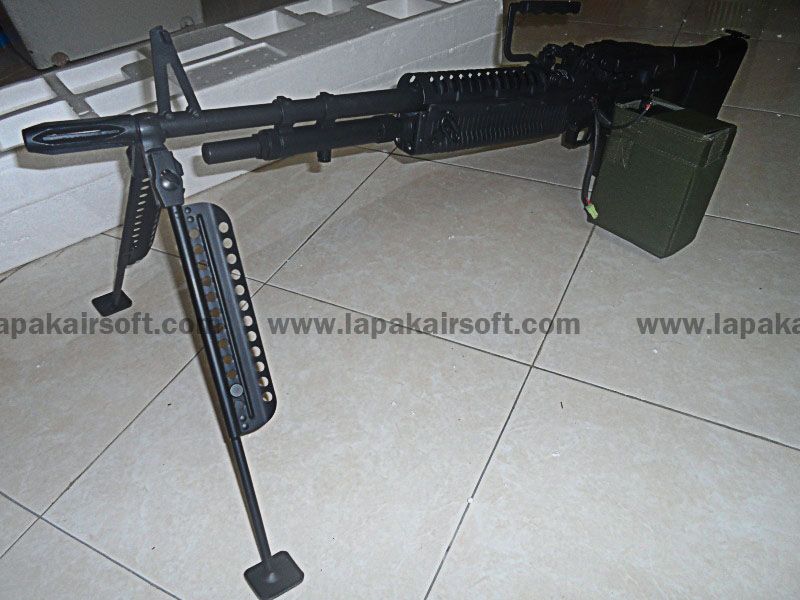 Quick Overview
A&K M60 VN SAW type Heavy Weight Light Machine Gun
— FULL METAL Airsoft Electric AEG
— Adjustable rate of firing by the Voltage Chip (Turn Gas Muzzle on front)
— Detachable Barrel Assembly / Quick Change Spring
Airsoft replica of US NAVY SEALs weapons selection
Realistic Measurement Electric Powered Airsoft AEG
FULL METAL Constructed Airsoft Electric Gun (AEG) from A&K
Super heavy Built with Weight over 7kg !! (Do not carry it by carry handle only, it might break and cause damage)
Innovative adjustable firing rate design, simply turn the gas muzzle and it will accelerate/decelerate by Voltage Chip
Ready to go for 350FPS without modification
Electric Auto-Winding 3500 Rounds Box Magazine (Synchronize Sound Activated)
Sound Sensor built-in drum magazine help winding bullet into barrel while shooting
Store up to 11.1V Batteries inside of the Magazine Pouch (Mini-Plug)
Other Features:
Foldable Bipod is easy to deploy with adjustable height
Metal Flash Suppressor
Adjustable Folding Rear Sight
Metal Feed Tray
Polymer Made Heat Guard & Handguard
Adjustable Hop Up chamber
Quick Detachable Barrel Assembly
8mm bearing Gear Box
Compatible with standard AEG Inner Barrel
All these features make this gun truly amazing
Right, it is "Light" Machine Gun, you could installed with any tactical sling on steel sling mount on it.
Remember to check out our Store for battery, charger, magazine & accessories
Airsoft replica of US NAVY SEALs weapons selection
Great review presented by Pinoy airsoft (great vid, guys!)
Harga : HABIS
Stok : HABIS