UPDATE 20 SEPTEMBER 2019

ATURAN MAIN SEBELUM ANDA MEMBELI :
Anda sedang tidak ditipu. Jadi tak perlu khawatir jadi KORBAN TIPU. Saya menjual airsoft sejak 2008. Anda boleh cek pengunjung yang pernah transaksi dengan saya, klik disini.
Airsoft yang dipajang di bawah ini adalah BARANG BARU bukan AIRSOFT SECOND/BEKAS.
Semua airsoft baru yang dijual tidak ada garansi.
Tidak melayani COD/ ketemuan (lihat & bayar di tempat).  Sori…bukan sombong & mau nipu, tapi dgn byk pertimbangan smp situasi kondusif deh (kemaren2 sih masih bisa COD)
Cara transaksi : uang ditransfer dulu, baru barang dikirim.
Rekening bank yang biasa digunakan : BCA & Mandiri.
Bagi anda yang posisinya di daerah/pelosok, bisa lewat wesel pos online. Lebih gampang malah, kantor pos udah dimana2.
=========================================
=========================================
Untuk meningkatkan kualitas pelayanan kepada customer, mohon maaf, kami tidak menerima pertanyaan/order via TELEPON. Silakan tanyakan via SMS/YM/BBM/Email/Whatsapp.
Salam Sukses, Terima Kasih:)
=========================================
SMS/Telp/Whatsapp (langsung klik) : 0859-3353-7670
email : lapakairsoftgun@gmail.com
Instagram : @lapakairsoftgun_
=========================================
Selamat berbelanja
=========================================
RACE GUN FAMILY
APLUS Custom KJ Works KP15 CZ SHADOW 2 GBB/CO2 Pistol
Full Metal & Engraved Marking
Spesifikasi :
Full Metal Slide and Frame
Engraved "CZ SHADOW 2" Marking on Slide and Detail Marking on Frame
Metal Outer Barrel
Metal Silver Trigger
Metal Fiber Optic Front Sigh & Metal Rear Sight
Extreme smooth slide cycling with clicks & clacks metal sound
26 Rounds Loading Capacity Top Gas Power Magazine
With Under rail for all your accessory needs
Rubber Non-Slip Textured grip
Adjustable Hop-Up System
Matt Black Finish which look very realistic
Berat (gram): 1,1 kg
Panjang : 210mm
panjang Barrel : ~100mm
Blow Back : Yes
Hop-up Adjustable
Shooting Mode : Semi-Automatic
Kapasitas Magazine : 26+1
Kaliber : 6mm BB
Pistol Power Source : Green Gas
Power (Muzzle Velocity) 300 FPS (Top Gas) / 335 FPS (CO2 Gas)
Stok : READY
Harga : Rp 3.500.000,- Rp 3.150.000,- LENGKAP DGN BONUS
=======
KWC CZ75 COMPETITION

Spesifikasi :
Material dominan Full Metal
Kapasitas Magazine 18 butir
Panjang 280mm
Berat 1400g
kaliber 4.5mm
Menggunakan gas CO2 Blow-Back with Adjustable Hop-Up
Muzzle Velocity 440~460 FPS with 0.20g BBs and CO2
Kelengkapan : Gun, Magazine, Scope Mount, BBs, Hex Key for Magazine Base, Instruction Manual
Stok : HABIS
Harga : Rp 0,-
###
Tokyo Marui Gold Match
Nama Produk : Tokyo Marui Gold Match
Material : Full Metal impresi, ABS slide & frame
kaliber 6mm

Kapasitas Magazine : 31 butir

Speed : 320 fps
Jenis gas : green gas

Panjang : 222 mm

Kelengkapan : dus, manual, 1 buah mag gas standar

Berat : 90 gr
Review TM Gold Match :
Stok : READY
Harga : Rp 5.000.000,–

###
Cybergun Tanfoglio Gold Custom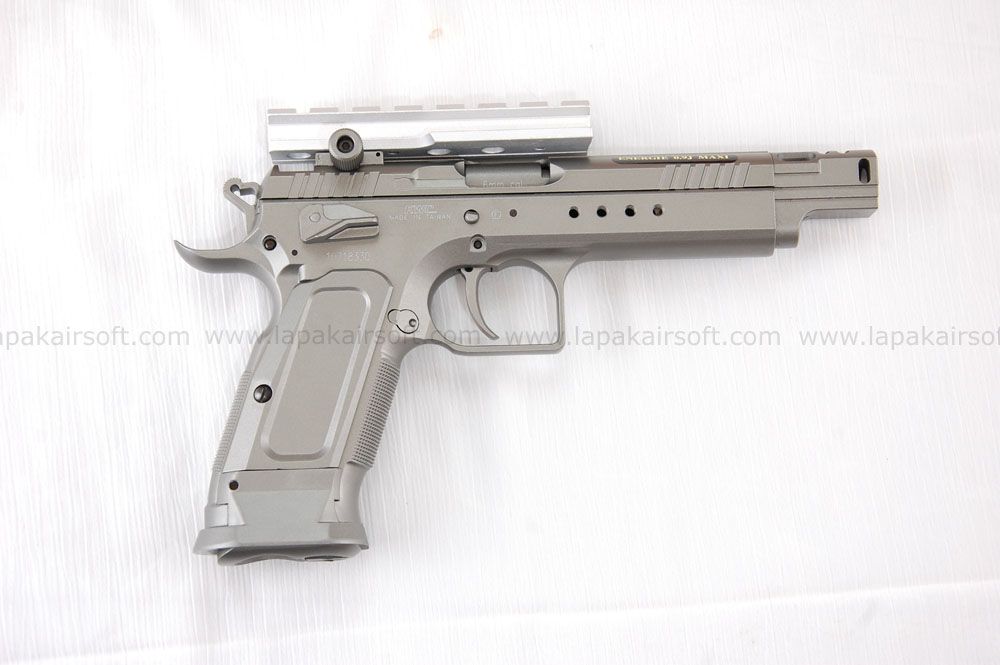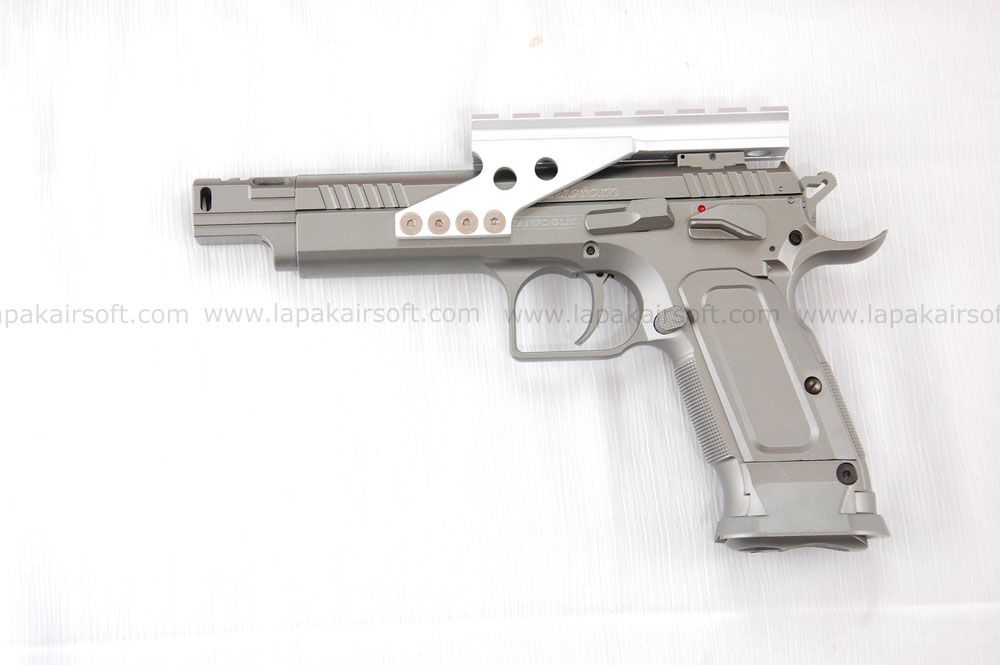 Race Gun model Tanfoglio ini digunakan langsung oleh Eric Grauffel untuk menyabet gelar prestisius di berbagai kompetisi IPSC (International Practical Shooter Competition).
Spesifikasi :
menggunakan gas CO2 (walaupun dalam aturan IPSC gas CO2 tidak diperkenankan)
speed 400 fps
full metal slide serta frame & bobot cukup berat
sudah termasuk optic mounting berbahan metal
desain slide ramping lengkap dengan tuas kokang untuk memudahkan anda mengkokang/menarik slide.

Harga : Rp 0,-
Stok : HABIS